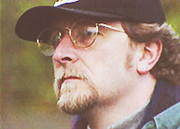 HyperBole Studios is a creator and developer of world-class interactive entertainment. Founded in 1990 by Greg Roach, one of the country's leading interactive designers, HyperBole explores interactive media as a new creative form, developing intelligent, story-driven multimedia, games, and online entertainment.

HyperBole Studios has been creating compelling, award-winning interactive entertainment for over eight years. The company started with an interactive magazine, which was serialized for two years. HyperBole now develops CD-ROM titles, interactive technology and online content.

Their award-winning CD-ROM titles include the interactive novel The Madness of Roland, and the VirtualCinema® interactive movies,Quantum Gate, its sequel, The Vortex: Quantum Gate II, and the blockbuster The X-Files Game.

Our web creations include interactive illustrated stories developed for New Scientist magazine. The sites "Christmas Lost and Christmas Found" and "Eros & Agape" were successful in attracting attention and adding thousands of United States subscribers to the New Scientist site. Other original web entertainment can be viewed at this site, and HyperBole has branched out into corporate web work as well.

The company has spent years developing VirtualCinema, an interactive engine, interface, and structural approach to interactive media. VirtualCinema, equally suited to the development of entertainment or computer-based training, is now available for licensing.




© Copyright 2002, HyperBole Studios, All Rights Reserved
Webmaster: webmaster@hyperbole.com