eslie sat on the floor, drinking hot cocoa and flipping incessantly through the four television channels available to her. She would toggle the tele-text off and on, sigh heavily and surf some more.

"I don't know what you expect to see happen. You seem to think that if you change the channels enough one of them will magically transform into Nickelodeon."

"Yeah, right, dad."

"Why don't you go outside and play?"

"It's raining."

"No, no. It's stopped."

"Really?"

"Would I lie to you?"

"Probably for money."

"Very funny. Go outside and play."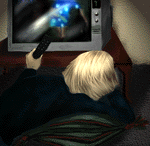 Leslie put on her coat and hat and headed outside. Shirley stopped her in the hall and said, "Not quite. We need gloves, galoshes and a scarf. It's quite cold out there and we don't want beautiful American girls freezing their little button noses off, now do we. Gives my country a bad name."
"Yeah, right, Aunt Shirley."
"Now go and give your father a kiss, then you may play."
"Dad," she said, tromping into the room (she enjoyed the big galumphing sound the galoshes made), "Shirley told me to give you a kiss."
The television had now settled on the BBC and a grim faced new anchor, composited over a map of Bosnia, was saying:
"The explosion tore through the building just before dawn this morning. The structure immediately caught fire. There are no confirmed reports of casualties at this time, but the situation looks grim indeed. The building housed a combination of civilian an d military relief personnel, including an army medical unit and a number of American journalists. No one has yet claimed responsibility for the attack."






©1995 Hyperbole Studios Inc.